Our Promise and Commitment to Our Clients…
We value your business and take great care in providing the proper insurance product to protect both your personal or business assets. Our personal insurance agents can assist you with coverage for your home, condo, rental property, personal umbrella, watercraft and recreational vehicles. Likewise, your business is also very important to us. We want to provide you with the best available protection at a competitive price while still providing the service that has kept Kelly Williams Insurance thriving since 1895.
As an Independent Long Beach Insurance Agency…
We analyze loss exposures, recommend the proper coverage, match your needs with the many companies that we represent, and offer it to you at the lowest possible price. Since 1895, Kelly Williams Insurance has been providing insurance policies to thousands of residents and businesses in Long Beach and throughout Southern California with superior service and the most reasonable pricing. We are now a fourth generation family owned business but still maintain the original ideals set by our founders. We continue in the tradition of honesty, integrity, and dependable service.
Let Us Diagnose and Assist…
Our commercial department can diagnose the exposures that your business may encounter while operating. Kelly Williams's knowledgeable staff can put together a package to protect your business from unforeseen financial loss and has the experience in the industry to find the best fit with our carriers. We represent a wide variety of companies so we are able to get you the most competitive deal for your workers compensation, general liability, professional liability, commercial property, group health, and commercial auto insurance.
Why do business with Kelly Williams Insurance Agency?
Unlike a captive, or direct insurance company who only offers their own proprietary products, our agency is 100% independent of any one company. Many insurance consumers don't fully understand just how important that really is.
When it comes to something as important as insurance, it's imperative that you work with an agency who has an in-depth knowledge of multiple insurance products, companies, and guidelines — not just one.
At the end of the day, what separates one agent from another, is their ability to proactively service their policy holders, and their knowledge of the insurance industry, products, and different situations that may present themselves to their clients.
Independent Agent Vs. The Rest
Here is a quick comparison of the differences between an independent agency like us, and the various other types of companies that are out there: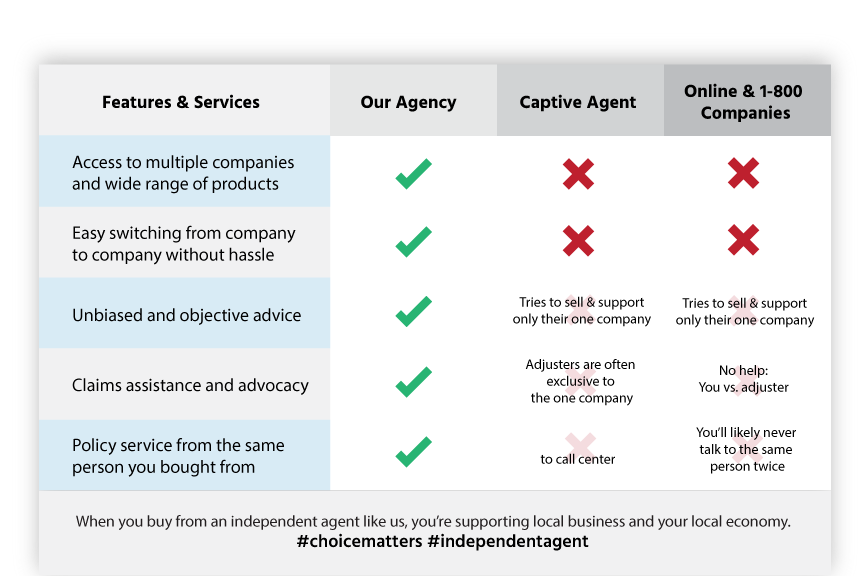 If you'd like to get started with a complimentary quote and/or policy review, we'd be happy to help you any way we can. Simply complete the fields below to get started online in a matter of seconds.
We appreciate the opportunity to help you, and look forward to servicing your insurance needs! Feel free to call us directly if you have more detailed questions.